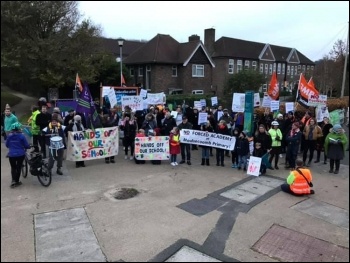 Over 100 parents, children, trade unionists and other supporters from the local community were on the picket line outside Moulsecoomb Primary School, Brighton on 21 November.
Bill North, Brighton Socialist Party
Members of the NEU and GMB unions had voted to take strike action as part of the campaign against plans to force the school to become an academy. The entire staff, governors, local residents and Brighton and Hove Council are also opposed to this 'forced academisation'.
At the end of the picket, and with the school securely closed for the day, protesters marched to a local hall for a 'family fun day' organised by parents. It was also an opportunity for the 'fun' of planning the next stage of the campaign!
Faced with this level of opposition, two academy trusts have already given up attempting to take over the school. A third, the New Horizons Academy Trust, seem to think that if they wait long enough the campaign will run out of steam. If that's what they believe then they are in for a rude awakening!
The strike follows directly on from two days of lively school gate demonstrations by parents protesting visits by the academy trust – but the campaign is not limited to the school grounds.
Recently, campaigners waved banners and gave out leaflets outside a car-parts depot where a New Horizons trustee works as sales director. One of the placards read: "Kids are not car parts! We won't let a car salesman run our school!"