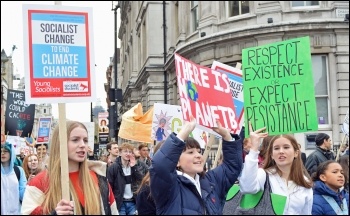 The 20 September 'Earth Strike' marks an important new stage in the Youth Strike 4 Climate protests. These began over a year ago and have mobilised millions of young people around the world.
Josh Asker, Southampton Socialist Party
They are an expression of anger at governments that preside over a system which creates inequality, injustice and destruction, and is unable to provide youth with a future.
The capitalist politicians are incapable of solving the climate crisis and the misery of low pay, unemployment, debt, poverty and homelessness.
Now, on 20 September, students are linking up with workers in protests and strikes. In this country many workers are following the call from the university and college union, UCU, for a 30 minute lunchtime stoppage. Locally, many different trade unions are collaborating in the protests.
This is an important development because of the potential power that workers hold. Mass protests like those organised by Extinction Rebellion can block the streets, but coordinated action by workers can grind whole cities to a standstill.
The trade unions have six million members and these workers are potentially a colossal force in the fight to kick out the Tories and to save our planet.
Students' unions
An important part of this struggle is also the formation of school students' unions, so that no one takes action on their own, and students can organise to defend each other and their right to protest.
These could link up with students at other schools and colleges in a local area and eventually at a national level.
They could act to democratically decide how to take the movement forward, as well as fighting on other issues such as school funding.
Links need to be maintained between students' unions and workers' unions beyond the 20 September protests.
The fight to save our environment is intrinsically linked to the fight to improve all aspects of our lives.
The same capitalist politicians that are unable to solve the climate crisis are also unable to give us a future with decent jobs, pay and services.
The climate strikers have raised the slogan 'system change, not climate change'. There is no way that climate change can be stopped while the capitalists continue with their drive for profits worldwide.
We believe that system change must be socialist if it is to be capable of solving the environmental catastrophe we face.
Fighting for a socialist alternative to capitalism's austerity and climate crisis requires building a mass movement of workers' and young people in this country and internationally.
And as part of that process we need a political voice. Kicking out the Tories in a general election would be just the first step.
To guarantee a decent future for working-class and young people a Corbyn-led government would have to dismantle the control that the big corporations exert over the economy.
This would mean taking them into public ownership, democratically controlled and managed by working-class people.
In that way it would be possible to draw up a plan of investment to provide jobs, homes, services and the resources we need, while at the same time ensuring that the environment is protected.
But pollution and environmental destruction don't stop at national boundaries. Only international socialist cooperation can save our planet and this is what the Socialist Party and our sister organisations in the Committee for a Workers' International are fighting for here and around the globe.
---
Picket for the Planet
Paul Couchman, Surrey Unison branch secretary
Members of Unison in Surrey will be holding a rally – a 'Picket for the Planet' on 20 September. We are in full support of the action these courageous young people have been taking.
Month after month, across the world, school students have taken strike action against climate change inspired by Greta Thunberg.
This time, they are asking for the trade unions, the workers of the world, to come out and support them – calling for a Global Earth Strike.
We are calling on all our members to come and support a one-hour protest rally on the day in their lunch breaks or by taking annual leave etc.
School students will be walking out of (or picketing outside) a number of schools in Surrey, marching through Guildford to the Borough Council offices to deliver letters to the councillors, before marching up to the train station to join with the Unison rally at 12pm.
We need a government that will take this issue seriously and take over those huge, profit-hungry companies which are destroying our planet. We need socialist change – not climate change.
Currently politicians are arguing over deal or no-deal, Brexit or Remain, but in the real world the Amazon is burning, our oceans are dying, energy companies continue to profit from fossil fuels, and so on.
In Surrey our airports continue to expand, incinerators are being brought online and fracking is causing earthquakes.
I hope that the energy and commitment of these young people can be a spur, part of a massive movement of the trade unions and working people to transform society in the interests of the many, not the few.