Boris Johnson says austerity is over. But who believes this pathological liar?
As London mayor and Tory MP, Johnson promoted cuts to council services and supported tax cuts for the super-rich.
The Tory austerity axe has fallen hardest on council budgets. But shamefully, right-wing, Blairite councillors in Labour councils have carried out these Tory cuts, hammering both young and old.
Stripped away is the veneer of a civilised society; one in ten libraries have been closed, along with parks, playgrounds, youth clubs and children's centres.
It is working-class communities which have borne the brunt of these brutal council cuts. With the impact of job cuts, zero-hour contracts, rising rents and falling pay and benefits, there is little left of a safety net to cope. Scandalously, there are more foodbanks than McDonald's outlets in Tory Britain.
An extra 500,000 children have been thrown into poverty as a result of austerity cuts. Schools and children's services are being asked to cope while their budgets and staff are axed. Social care service cuts have left over-stretched families struggling to cope with elderly parents and relatives. As the bar to access services is lifted higher, the poorest are left starving to die of neglect.
Homelessness is a vivid sign of austerity – every town centre a shop window for abandoned rough sleepers. And thousands of job cuts have left council workers overworked and underpaid.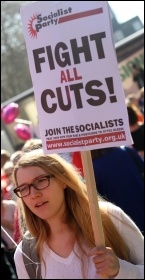 To add fuel to the fire we are all asked to pay more for less. Council tax bills are set to rise above the rate of inflation, and councils are introducing new charges and increasing others.
So as councils prepare to set budgets next month, everyone – Johnson, the Labour leadership candidates, trade union leaders, councillors of every shade will be asked, "what are you going to do to stop council cuts?"
Over the last decade, heroic struggles of council workers, working-class communities and a handful of anti-cuts councillors have fought to protect jobs and public services. There have been important victories, but resistance has remained isolated.
We are campaigning for the council trade unions to ballot for national strike action to stop the cuts. And we call on Labour councillors to join the resistance by setting no-cuts budgets and demanding the return of the billions stolen by the Tories since 2010.
A mass campaign to mobilise working-class communities, drawing on the historic victory of the Militant, socialist-led Liverpool City Council in the 1980s (see editorial), must be central to the fightback against further Tory cuts and the rebuilding of our austerity-hit communities.