Great TUSC victory in Southampton
28 May 2014
Keith Morrell has re-won his council seat in Coxford, Southampton, standing as part of TUSC. Keith was previously kicked out of the Labour Party for voting against cuts.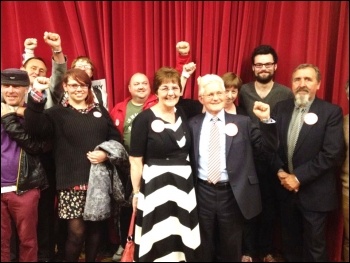 He has been decisively re-elected with 1,633 votes, 43%. This is a great result and vindication for his stand, alongside fellow rebel councillor Don Thomas, in opposing all cuts.
Ukip came second with 796 votes, Labour third with 724 votes, the Tories fourth with 500 votes, and Lib Dems last with 168.
The result has lit up the idea that fighting councillors can help build support for a real alternative to austerity. It is in sharp contrast to the close shave for Labour council leader Simon Letts who nearly lost his seat to
Ukip
after two years of implementing Tory cuts.
Keith said: "This result is a victory for the people of Coxford who fought to save local services and won an important victory to re-open our local swimming pool. It shows what is possible.
"Other significant results across the city for TUSC Against Cuts candidates show the potential that exists for a new party – a party that stands up for working people, campaigns for jobs and
housing
and tackles the growing poverty that affects so many families in the city".