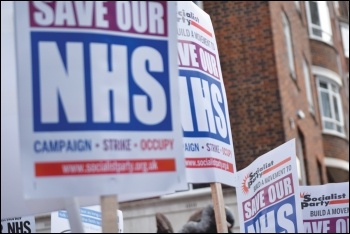 There was a noisy and enthusiastic demonstration outside Frimley Park Hospital in Surrey on 22 August against outsourcing NHS staff to a 'wholly owned subsidiary'. Good to see NHS staff in uniform joining the protest.
General union Unite is balloting members for strike action, and general union GMB is holding a consultative ballot.
I think what is required is a united approach with all unions balloting for strike action.
We held the 'Defend Our Community Services' banner to demonstrate that all of us have a vested interest in NHS staff winning this struggle.
Terry Pearce, Bracknell Socialist Party