It has been well documented that the National Health Service (NHS)
is under attack and in England faces its total destruction through the
Health and Social Care Act. But exactly what is happening, why and what
can be done about it? Socialist Party health worker activists, including
Terry Pearce of the Save Heatherwood Hospital campaign (personal
capacity) and Reading Socialist Party investigate.
What is happening to the NHS?
The future of the NHS
hangs in the balance. Tory Health secretary Andrew Lansley's hated and
discredited Health and Social Care Act threatens to accelerate the cuts
and privatisations that are already crippling the NHS, to breaking
point. The government's privatisation and austerity agenda has already
resulted in ward closures and increased pressure on services and health workers around the country, as well as attacks on pay and pensions.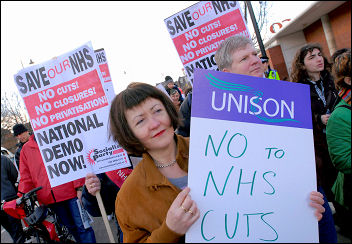 The coalition has spent £1.7 billion on re-organising the NHS. £20 billion cuts
to health services have been dressed up as 'efficiency savings'.
Doctors.net.uk, a professional networking site to which almost all
British doctors belong, asked medics: "Have cuts to staff and/or
services affected patient care in your departments, area or surgery
during the last 12 months".
Of the 664 doctors who responded 527 (79%) said yes. Among 440
hospital doctors, 359 had seen cuts, while 168 of 224 family doctors
said the same. What the cuts really mean can be seen, for example, in
South London. In Lewisham, almost £500,000 has been chopped from the
budget for children's mental health services. In Lambeth, the Primary
Care Trust has cut the number of patients eligible to receive free
incontinence pads.
How will accountability in the NHS change?
Clinical Consortium Groups (CCGs) which are GP-driven will become
responsible in April 2013 for around £60 billion (about half) of the
health budget. CCGs will be both commissioners and suppliers of health
services – a clear conflict of interest. They will be virtually unaccountable with the abolition of LINKS
(elected, independent Community Health Watchdogs) to be replaced by
Healthwatch, commissioned by Local Authorities and likely to be
appointed or even run by private health companies.
In
other words there will be no real independent accountability of either
GPs or local authorities. There will be no way of calling GPs to
account; antagonism between patients and doctors will grow as privatisation begins to creep into GPs' surgeries. Also the Secretary of State for Health will no longer be ultimately
responsible for the NHS – it will be the CCG in each area. This means
that if the public are unhappy with the NHS, we can't vote against
changes at the ballot box.
So, does it mean privatisation?
Basically, yes. Although CCGs do not come online until next April we
are already seeing a glimpse of the future. A health centre in York was
reported to have written to patients informing them of some services
like minor operations that would no longer be available on the NHS and
instead offered to carry out the procedures for "a fee". This is just
the tip of the iceberg. As funding is cut and private involvement
increases we will see much more of these arrangements.
The vultures of privatisation are circling. Hinchingbrooke Hospital
in Cambridgeshire has already been taken over by a non-state provider.
Circle has become the first private company to take over a NHS hospital.
The company has already registered its determination to expand its
empire. This kind of arrangement will only become more commonplace. The very principle of free treatment for all, funded by general
taxation and publicly run, is at risk. The heart of the welfare state is
threatened. The private sector will pick off the profitable bits of the
NHS as the remainder of services suffer cuts and become fragmented.
But 75% of the population don't want the private sector in the NHS.
Why is the government pushing ahead in the face of such huge opposition?

Privatisation paves the way for a decimation of wages and conditions
of health workers and is being prepared for by cuts now. And it is part
of the Tories' wider agenda of cutting the welfare state to the bone –
making ordinary people pay for the economic crisis.
It is also because of the dilemma which confronts 'modern'
capitalism, of restricted opportunities to invest profitably in
Britain's depleted manufacturing sector. They therefore look hungrily to
invest in privatised industries – not just health, but other sections
as well. Even if this means a more expensive, less efficient, worse
service – which it will – nevertheless it could be a profitable outlet
for the £750 billion presently locked up in the vaults of big business.
Another aspect of why the politicians are so determined to push ahead
is that many of them stand to directly benefit from privatisation in
the health service! In the House of Lords, their Lordships with
interests in private healthcare came out of virtual retirement to record
their support for the Health Bill.
More than one in four Tory Lords and one in six Labour Lords, as well
as a numebr of MPs from all three parties, have interests in private
health companies or insurers. Baroness Cumberlege of Newick, former Tory
health secretary, who runs her own lobbying firm which works
"extensively" with major pharmaceutical interests, has recorded votes on
just 22 days this year. But she managed to vote on every occasion
during the course of the Health Bill.
What will the changes mean?
Services will suffer as cuts bite, even before the reforms come in.
GPs are beginning to fear for the future. According to a poll of 814 GPs
by the BBC, only 12% thought the reforms would improve things – down
from 23% in 2011.
A combination of cuts to staff and services, together with
fragmentation and privatisation will lead to a decline in the quality of
service. In many areas, communities are facing closure of wards and
hospitals, often leading to patients having to travel longer distances
for treatment. The previous Labour government started the rot by
massively expanding privatisation. This government threatens to go even
further.
More and more treatment for minor ailments will no longer be
available on the NHS. There will be less resources to spend on high risk
but essential diagnostic procedures. Up to 50% of beds in NHS hospitals
could be turned over to private patients meaning longer waits and a
second rate service for the rest of us. Patients will be forced into the private sector. There is a clamour
from the rightwing for charges to be introduced for visits to GPs. This
is the slippery slope to a USA-style health service.
What is being done about it?
During the Health and Social Care Act's passage through parliament it
faced vocal opposition from a variety of sources. Labour leader Ed
Miliband opposed the bill but reassured big business that the NHS under
Labour would continue "using the private sector where appropriate".
Andy Burnham, shadow health secretary, made similar points when he
spoke at Unison's health conference. As its previous record shows,
Labour has no opposition to the privatisation of the NHS.
There have been sizable demonstrations in support of local hospitals
and services threatened with cuts and closures. Some campaign groups
have focused on lobbying MPs and Lords. This can be a useful tactic to
force politicians to feel the strength of opposition, but only as part
of a much bigger movement. The priority must be a campaign that
mobilises the mass anger at the destruction of the NHS. Central to that
must be health workers themselves, and the trade unions they are
organised in.
What can the unions do?
The TUC has called a national demonstration against the cuts on 20
October. This demonstration should also take up the demand to save the
NHS. Last year's TUC demo (which brought 700,000 onto the streets of
London in a massive show of strength against cuts) shows the authority
the trade union movement has when it gives a lead.
That demonstration led the way to strike action in June and November
2011, and similarly a demo for the NHS must only be the start of a trade
union-led campaign of industrial action. A well built for demo would
bring all the local NHS campaigns together, but even more importantly,
it would give confidence to NHS workers themselves to fight.
The health unions should then use that increased confidence to
organise industrial action. This could ideally be linked with other
public sector unions striking against austerity, to put as much pressure
on the government as possible. The National Shop Stewards Network is
campaigning for a one day general strike. This is the best way to defend
the NHS – by showing that workers will fight.
The pension strike on 30 November included a new generation of NHS
workers who had never taken industrial action on that scale before.
Unfortunately the militant mood of members on the day has not been
reflected since by the union leaderships. Nonetheless, the basis is
there to build a fighting campaign among health workers.
The task facing us as trade unionists is to turn the undoubted anger
that exists within the NHS and in our communities into a force which can
stop the Con-Dems in their tracks. A major part of this fight must be
the building of strong, fighting union branch organisations and shop
stewards committees within hospitals.
What did last year's strikes achieve?
On 30 November joint union action and solidarity in well organised
stewards committees delivered higher turnouts on strike and thousands of
new union members, who joined because the unions were seen to be taking
up the fight.
Sadly, this basic lesson of trade unionism has not been learned by
the Unison leadership, who after praising the strike and pointing out
its undoubted success, proceeded to enter talks with the government and
started to downplay the numbers taking action and the effectiveness of
the strike within the NHS.
Despite this lack of leadership Unison members narrowly voted to
reject the shabby pension deal offered to them in early 2012. This vote,
added to the Unite, GMB and the BMA's decision to take action, if
limited, should be used to raise the demand for further action on
pensions. If further action does not take place on pensions it would be wrong
however to view the pensions strike as a final defeat for activists and
the shop stewards movement. The strike showed we have the power within
the workplace and support within wider society. Thousands of workers
flocked towards the unions when they were seen to be fighting back and
many of those have become active within the union.
Will the NHS be safe if we force the government to back down from the Health and Social Care Act?
We have already suffered over three decades of continuous
underinvestment and privatisation in the health service. The previous
Tory government of John Major introduced privatisation via the 'internal
market' in the NHS, which New Labour intensified. They brought us the
scandal of PFI, currently taking over £1.5 billion out of the NHS every
year. Bigger hospitals were encouraged to become Foundation Trusts,
acting as businesses, independent of NHS control.
All the latest attacks have to be stopped. We have to fight to regain
what was lost in the past – but also for a completely publicly funded,
democratically run NHS. Successive governments keep coming back for the
NHS – to privatise, to cut, to destroy. It is clear that a political
alternative is needed to represent all those fighting cuts and
privatisation. The Trade Unionist and Socialist Coalition is an
important step towards this.
This is a rich country – just the richest 1% own £1 trillion. It
would be ludicrous to suggest that we can't provide good quality
healthcare for all those who need it. But while profit for a tiny
minority is put before the needs of the rest of us, we'll never achieve
that.
Fundamentally we need a socialist NHS to provide for everyone's
health needs – free at the point of use and under democratic control.
That means restoring the NHS as a service – run and planned locally and
nationally by democratic committees that include representatives of NHS
workers and the local community.
Cash is needed to cancel the cuts and end the chronic underfunding
that has undermined the NHS over years. Nationalising the pharmaceutical
and medical supply industries under working class control and
management could assist in this. Of course this would have to be
combined with a wider socialist programme to end poverty and inequality –
the biggest killers and causes of ill-health.