Teacher recruitment falls by a third – cut workload, not funding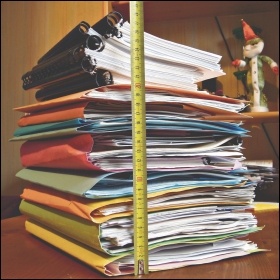 'Tom Donnelly', National Education Union rep, Yorkshire
Teachers throughout the country reacted with shock to the news that the number applying to train as teachers has dropped by 33%, according to Ucas figures. This is the fifth year the government has failed to meet its recruitment targets, and the largest drop for many years.
Pausing to look up, bleary eyed, from piles of marking, planning and data analysis, we scratched our heads.
Why wouldn't a graduate want to train, adding thousands more to their student debt, to go into a profession where they are denigrated by management, worked into the ground for a low graduate wage, then bullied out of the job when they become too expensive?
Of course, teachers know all too well why people don't want to enter the profession: the managerialist culture that makes our schools into factories – cookie cutting students and staff before discarding the ones that don't fit the mould.
Our schools are increasingly joyless places where teachers are constantly scrutinised and found wanting. This scrutiny is increasingly oppressive and corrosive.
I heard over the holidays that management in an academy in the area I work had taken to calling observations "smash-ins" rather than drop-ins. Nice.
Add to this the fact that teacher salaries in England were worth 12% less in 2015 than in 2005, according to the OECD. There have only been desultory 'pay rises' since. Is it any wonder graduates are looking elsewhere?
Many of the teachers who remain experience poor mental health due to micromanagement and the accompanying workload. As a rep for the National Education Union(NEU) I deal with the acute consequences of this every day: teachers burnt out and drained by the exam factories they work in.
Let's not forget who these teachers work with. In this pressurised, toxic environment it's no wonder our children are experiencing stress and anxiety at unprecedented levels.
Teachers need a new national contract. This must seriously reduce workload, guaranteeing a maximum working week and an end to unnecessary admin. It must scrap performance-related pay and raise pay above inflation to start making up for years of real-terms cuts.
With a membership approaching half a million, the newly merged NEU is in a powerful position to fight for this. In light of the latest anti-union laws, the leadership needs to prepare a serious campaign explaining the issues to build confidence for a ballot on national strike action.
Theresa May's reshuffle replacing Justine Greening with Damian Hinds as education secretary will change nothing. But coordinating strikes with other workers moving towards potential strikes, like nurses and civil servants, could bring this weak Tory government down.